Royal Oak's Leading Source for Physical Exams
• In Network with Beaumont Health Plan •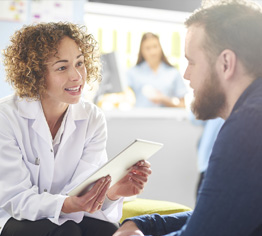 Providing quality urgent care services in the Royal Oak area for years, Berkley Urgent Care's board-certified physicians treat a wide range of illnesses and injuries for adults and children of all ages. We provide our services with no appointment necessary and we take most forms of insurance, as well as welcome the uninsured. Our experienced staff, medical assistants, and technicians are trained in all aspects of Urgent Care Medicine, and we have the advanced equipment necessary to treat most non-life threatening complaints that would otherwise require an ER visit.
Our team of board certified physicians and healthcare professionals are available 7 days a week to treat your needs at a time and price that fits your busy schedule and budget. Our modern, clean facility and comfortable waiting room, combined with our convenient hours and location, make us Oakland County's ideal choice for getting immediate attention for everything from common colds to school physicals, injuries, broken bones, and much more.
Our board-certified physicians are experienced in treating patients of all ages, and are available to provide care for a wide range of general medical conditions and ailments:
Flu
Flu shots
Tetanus shot
Sexually transmitted infections
Foreign body removal
Sore throat
Fever
Earaches
Migraine
Skin infections, rashes, & allergies
Chest Pain
Asthma, bronchitis, COPD, & pneumonia
Back & joint pain
Intramuscular and joint injections for relief of pain, migraines, infection
Royal Oak's Leading Source for Urgent Walk-In Emergency Care
At Berkley Urgent Care Medical Center, we offer walk-in emergency medical care, pediatric urgent care, and uninsured visits with an emphasis on quality care, short wait times, and affordable pricing. Additionally, we offer x-rays, as well as small procedures, such as stitches. Our medical center features advanced equipment, such as a digital x-ray suite and a trauma procedure room, allowing us to effectively treat all of your non-life threatening issues that would otherwise require an expensive and stressful ER visit.
We treat a wide range of non life-threatening complaints:
Automobile or work-related injuries or accidents
Eye infections & injuries
Burn care & wound care
Workman's comp injuries
Bladder & urinary tract infections
Laceration repair
Symptoms or complications of hypertension
Symptoms of diabetes & asthma
COPD and other chronic illnesses
Testing for strep, flu, mono, and more.
Testing for sexually transmitted infections, pregnancy & drug screens
Sports Physicals and Occupational Health Services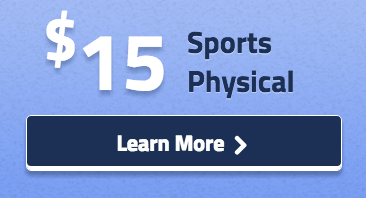 We offer fast and affordable physicals for school, sports, pre-employment, employment, DOT, and more. In addition to physicals, we provide drug and alcohol testing that meets the requirements of most employers.
With our minimal wait times, affordable prices, and friendly, knowledgeable healthcare team, we make getting your physical easier and more convenient than ever. Stop in for your walk-in physical, drug screening, or other occupational health needs today!
Flu Shots / TB Test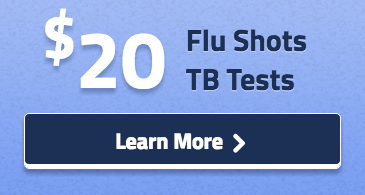 When flu season comes around, you may regret missing out on affordable flu shots from Berkley Urgent Care. With our low prices and short wait times, there's no reason not to protect yourself from one of the most common, yet debilitating viruses. While most people can't afford to miss a few days or work or classes, at only $20, it's not hard to afford our low-cost flu shots. Covered by Medicare and other insurances as well. Protect yourself this flu season with help from the healthcare professionals at Berkley Urgent Care.
---
Uninsured? Berkley Urgent Care can provide the affordable care you need.
We accept a wide range of insurance plans for your convenience, but we also believe that our uninsured guests should receive the same level of treatment as anybody else, without having to worry about the high costs typically associated with medical care. For our uninsured patients, we offer discounted pricing and will work with you to get you the treatment you need within your budget. Contact us today to speak with a medical professional about your situation and get the care you need.
*Our $95.00 uninsured office visit price does not include additional testing or procedures - additional costs will apply.
Below is a list of just some of insurance providers we currently accept:
Aetna
Beaumont Health Plan
Blue Cross Blue Shield (BCBS)
Blue Care Network (BCN)
Cigna
Cofinity
Health Alliance Plan (HAP)
Humana
Medicare
Medicaid
Molina
Priority Health
Total Health Care
Tricare
United Health Care
Reviews from patients:
"I received excellent care from Dr. Saleh during my recent visit! The facilities are impeccably clean, my wait time was very short, and all of the staff I interacted with was pleasant. The front desk was friendly, my nurse was gentle, and Dr. Saleh was very knowledgeable and caring. We are moving out further away to Troy but I still fully intend to use Berkley Urgent Care for my family now and in the future."

Sandra G.
---